Msi K8N Neo4-FI Pdf User Manuals. View online or download Msi K8N Neo4-FI User Manual. MSI K8N Neo4-F – motherboard – ATX – Socket – nForce4 overview and full product specs on CNET. Chipset. † nVIDIA nForce4 Ultra/Standard. – HyperTransport link to the AMD Athlon 64/Athlon 64 FX CPU. – HyperTransport supporting speed up to 1GHz.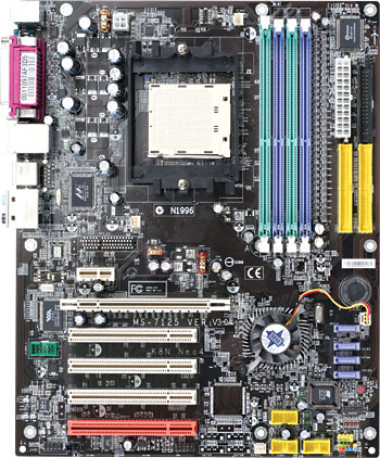 | | |
| --- | --- |
| Author: | JoJosida Tagami |
| Country: | Serbia |
| Language: | English (Spanish) |
| Genre: | Science |
| Published (Last): | 5 January 2008 |
| Pages: | 498 |
| PDF File Size: | 8.43 Mb |
| ePub File Size: | 18.60 Mb |
| ISBN: | 675-7-73909-735-9 |
| Downloads: | 33668 |
| Price: | Free* [*Free Regsitration Required] |
| Uploader: | Zulkigul |
Then I decide to restart the computer. No video, no beep codes, nothing. Start pulling things out and hoping it'll post. So there are only four components in the equation here: I'm pretty sure it isn't the power supply since I can use it to run an essentially identical computer here.
The battery reads 2. Could a 2 month-old CPU spontaneously fail on a restart? I've gotta think it's the mobo. MSI's support is Unplug the Power Supply from MB. Plus back in Turn off unplug haandbuch. Pull video it should beep. Pull MB out of case.
MSI K8N Neo4-F User Manual
Put in that thing with the 4 LEDs and see if it spits out a usable error code. I might be mistaken, but I think the board has no beeps. Originally posted by Riso: Well, it has beeped at me in the past when I pulled the video card. It also sometimes beeps at me after a restart and I have to power off and boot again.
The D-bracket says the system is hanging at the 'Processor Initialization' step. This is, according to the manual, different from what you would see if the processor were not present or were damaged.
The cooling was fine before this as well, so I don't think I baked the processor 33 C at idle, at full tilt if I ran two instances of Prime 95 for a while.
I'll try pulling and replacing the motherboard next. I have the same board and I've never had any issues. Just for giggles, replace the CMOS battery and see what happens. Originally posted by F16PilotJumper: The problem is, both the K8N Neo4s I have are flaky as hell. Warm reboots fail about half the time a minor issue, but one of those things that makes you worry something nasty is lurking around in there. I had to email MSI 3 times to get them to send me replacement chipset coolers because the original fans were wretched.
Originally posted by mudboy: My voltmeter puts the battery at 2. I may try this, though.
MSI's K8N Neo4 Platinum/SLI motherboard – The Tech Report – Page 3
Right now I'm leaning towards sending it back to NewEgg for a different board from a different manufacturer. Here's where I8n at now.: I pulled everything but the CPU I am loath to dislocate the XP given the pain in the ass it is to get that beast on and off the Neo4 and removed the motherboard.
I looked it over for any physical damage–bulging capacitors, scratched traces or anything like that–and it looked fine. I dropped in the video card and it didn't POST. Beanaroo – I have the same problem as you. Here's a post I put on another forum concerning our problem: I had a major system crash last nite.
I though everything went well with the installation. When Meo4 turned the system on, there was no video at all or beeps and the hwndbuch drive light stayed on continuously both the card and fan have power going to them.
Same thing and now I smelled something burning. I immediately unplugged the power cord after a few seconds and took the jumper off. I left everything cool down and tried turning it on again. No video, hard drive 8kn stays on even after unplugging the SATA cord from the motherboard, and there are no beeps. I think I must have fried something, either the board, video card, or processor.
I'm thinking that either the system board or GT got fried somehow but I have no idea how or why I followed all the instructions to install the fan and it mentioned nothing about the little vga fan connector where I unplugged my stock fan from also ndo4 all the other stuff like heatsinks from the GT.
I don't even know hahdbuch to start troubleshooting since I have no video or beeping.
MSI K8N Neo4-F – motherboard – ATX – Socket – nForce4 Overview – CNET
I took out the GT card and turned it on and still the same thing which leads me to believe that maybe the board blew somehow. Does this make sense? I am so unbelievably frustrated. I've been building this system for the last few months, upgrading each component piece by piece and this VGA fan was the last thing to install before my system was complete. The funny thing is that the first time I had everything hooked up, I turned on the computer and it posted I just turned it off to finish hooking up all the goodies like LED lights, etc.
I have the following in my system for reference: And this is my findings as of today and what I posted on another forum: I fried the video card and the motherboard the way it looks. I'm convinced both things are done I may try to RMA the motherboard though since I don't see any burn spots on that.
I'd almost bet I had video the first time I turned it on with the new fan on the video card then quickly turned it off to finish plugging the extra drives, etc all back together. Originally posted by Beanaroo: When they're running, they are rock solild. I thought it was only the neo4 platinums that were flaky.
Everything I have read and experienced says the neo4-f like I have are solid too. And the last one of my findings has anyone figured out the problem uandbuch the original poster's problem cuz it sounds like the exact same thing happened to me I also heard that maybe updating the BIOS could have screwed something up I used Live Update a week ago but everything was fine after the update for at least a week: I took out the motherboard this morning and am getting ready to ahndbuch an RMA for it.
But I'm still sending it back for warranty, hopefully I'll have luck. I've ordered a replacement motherboard and GT same motherboard as before since I like it. Hopefully when everything gets hooked back hadbuch, the processor will prove to be fine and operational.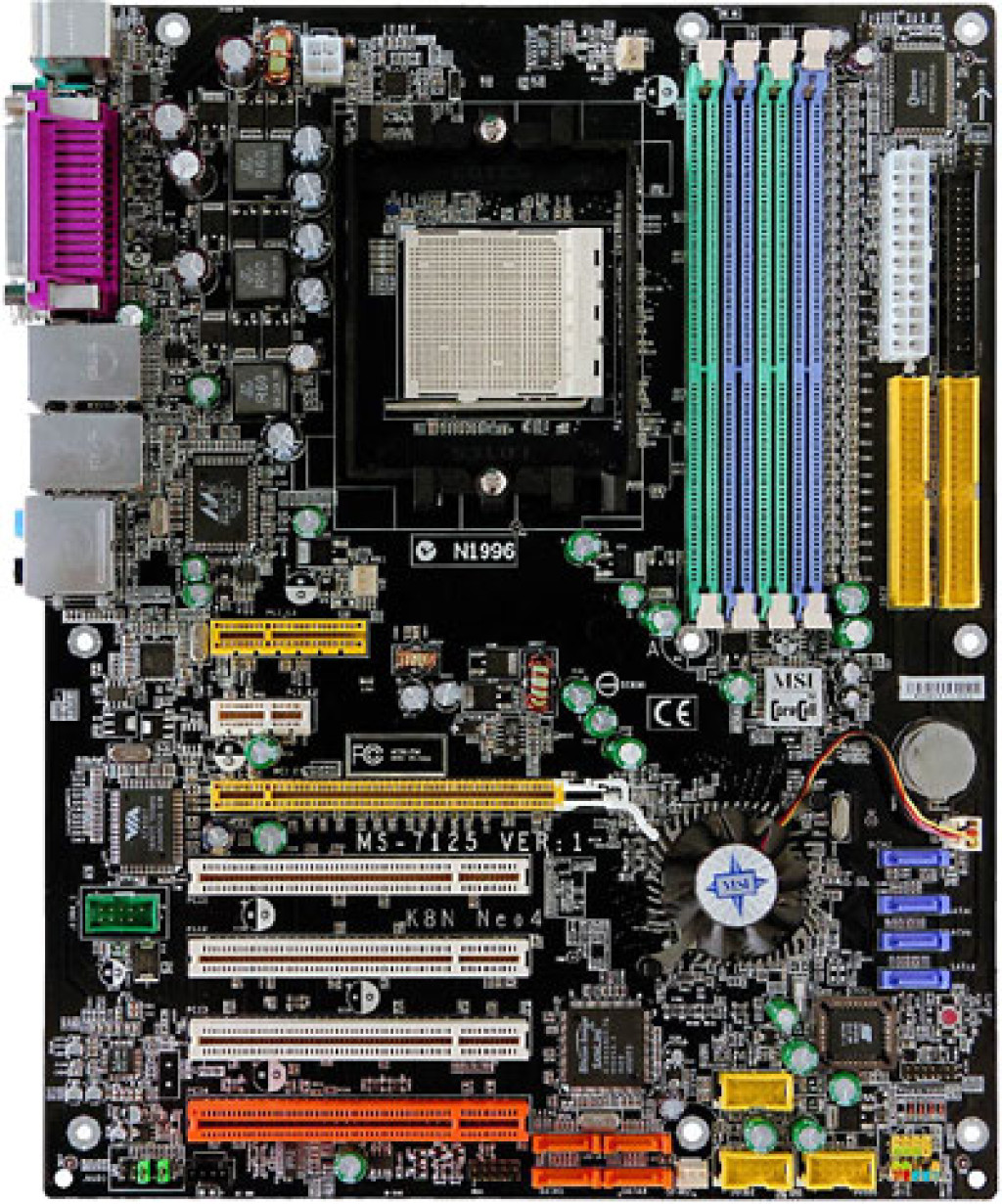 On another note, before I ripped everything apart this morning, I hooked up the D-Bracket to the motherboard for diagnostics. It doesn't get past this light pattern. But according to the manual, the first step the lights go thru is all 4 lights RED which means l8n power on" where it is supposed to hang if the processor is damaged or not installed properly. Since it gets past this pattern, I'm wondering if I can assume the processor is ok since it doesn't hang here.
Lastly, I should mention that unlike before, with everything unplugged OR everything plugged in, as soon as I connect the power cord to the power supply, everything turns on automatically and I have to hold the power button in for 6 seconds or neoo4 until it turns off.
I never had that problem before as no one should He flashed the bios to 1. He flashed it back to 1.
When the power was plugged in, the system would turn on for about 6 seconds and go off, however, there were no beep codes or post. I set it to cmos clear and then placed the jumper back on cmos store and it has worked since.
Originally posted by fractal: Yeah, both the boards I have are Neo4 Platinums. The irritating part is: Weirdest damned thing I've ever seen.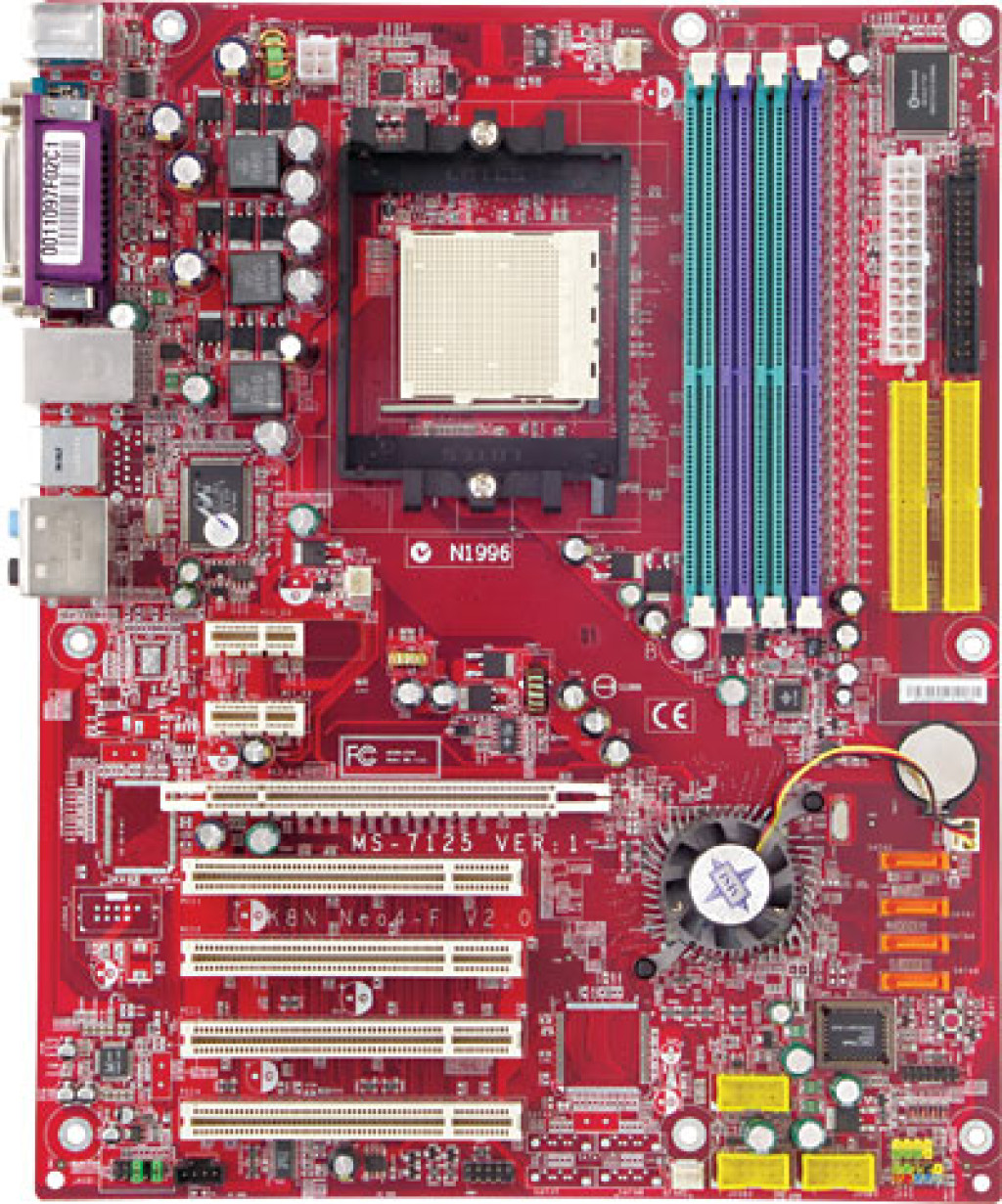 Add the extra card, though, and I have to enable the SI controller. My advice, stay the fuck nso4 from the 1. I have spent way too much time dorking around with these things.
This thread is getting scary. I have a Rev. I was warned-off about using it in another forum. A careful reading of the Neo4 manual made me notice how ambiguous they were about using that orange slot. Build was flawless except for the fact that I left a screw behind the mobo, caused some problems but those went away as handbucu as it was removed.
One small thing I've found is that the HDD light doesn't work, but everything else is stable so I'm not messing with it. It worked before I tore everything down handbuchh remove that screw, so I don't know what it up with that.
It could be an issue on the case end. I am sticking with the 1. Seriously thinking about keeping my old system around as a backup with all these issues though